Auf dieser Seite erfahren Sie, wie Sie für Mitarbeiter Ihres Unternehmens Benutzer im Lernmanagementsystem (LMS) anlegen und verwalten können. Diese Funktionen stehen ausschließlich Schulungskoordinatoren zur Verfügung.
This page's topics:
Enroll new users
To invite new users of your company to the online training, you have two options: Enrolling new users yourself or creating a group code. (read more)
Do the following to enroll new users:
Login to www.activeMind.academy.
After the log-in you'll find the following user site. Please click here to visit this page directly.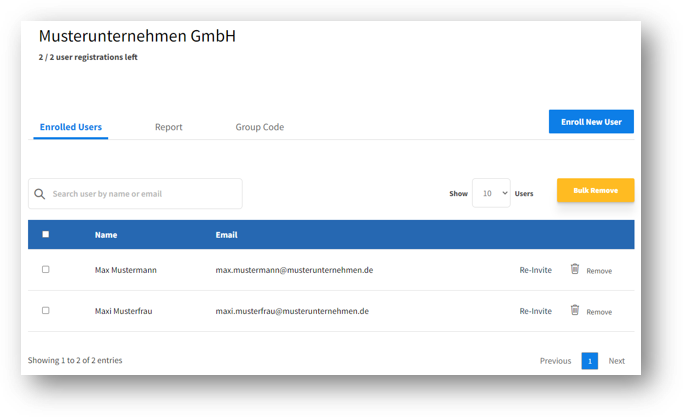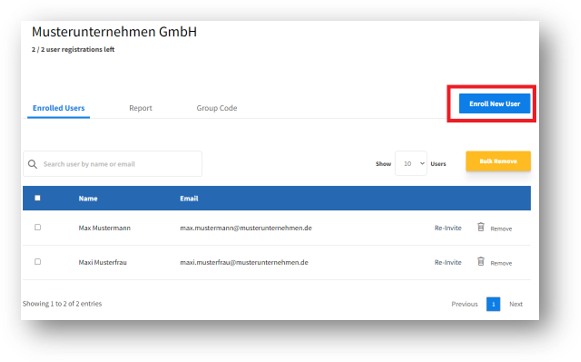 (a) To enroll new users, click on "Enroll New User". There, you can add the first name, last name and e-mail of the new user. Click on the "+"-button to create another user account.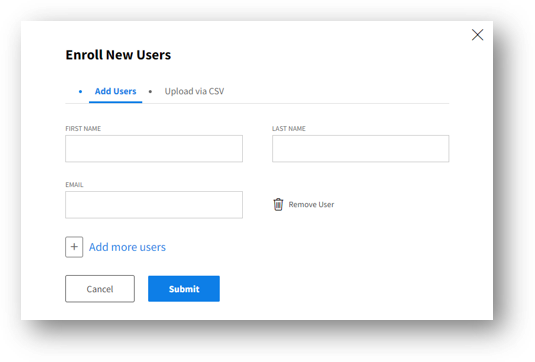 (b) You can also upload a CSV-file to import user information. Please take a look at the example file to check for the correct format.

After clicking on "submit" your new users receive an invitation mail. The users are now in your system and can be monitored via "enrolled users".
Enroll users via group code
By using a group code you can let your employees register themselves.
To create a new group code, please click on "Group Code" and "create Group Code". A new page will pop up.

You can generate a new group code by  switching the button to "auto generate". You can also type in your own code when it stands on "manual".

Please enter a validation period (From – To). We recommend a validation period for no longer than 30 days.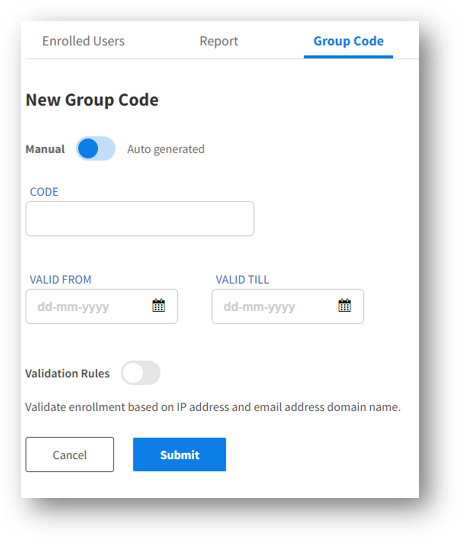 4. The use of validation rules is optional. We highly recommend using validation rules. You can type in an IP address or a domain name.
5. Please activate the status to valid the new group code.
6. Click on "submit" to create the new group code.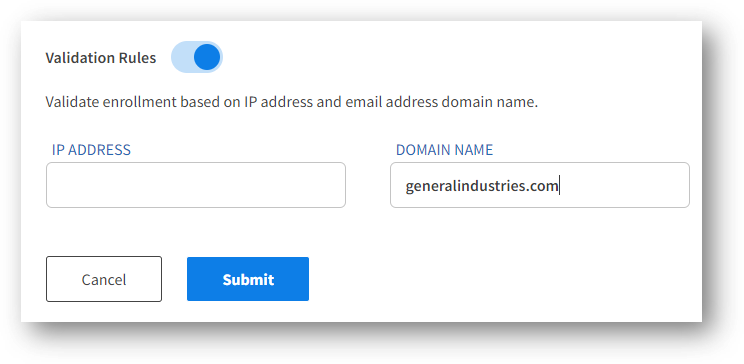 7. Please afterwards activate the code status. Do so by activating the switch next to the new code.

User management
You can find the user management actions under "Enrolled Users". The main functions can be seen next to the Username and mail on the right hand side.
The function "Re-invite" allows you to send a new generated E-Mail to invite users who are registered already. This task is useful when users did not receive or have lost the first invitation mail.
Use the button "Remove" to delete users from your group. After deletion, the user has no longer access to the group contents (e.g. courses).
Please note:
This function does not reactivate used licenses. If you made a mistake in registering a new user, please contact our support team.
Please use this function only in exceptional cases (e.g. an employee leaves the company)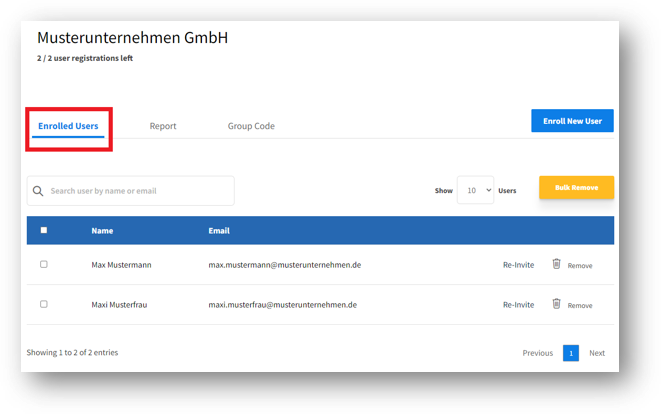 Show reports
By clicking on "Report" you will find the report page. To be shown the company's reports, proceed as follows:
Choose the course in the "Select Course" menu
Click on the button "Show Report"